Import Schema dialog box
The Import Schema dialog box allows you to specify the filename and settings for importing a schema from a file into MEGS_Log.
You can display this dialog box by clicking the Import button on the Schema Editor dialog box.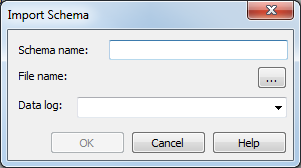 Schemas can be imported from Prolog 4 files and Prolog 4.x template files.
After you import a schema you can use the Schema Editor to edit it.
Schema name

: Enter the name to be used for the schema within MEGS_Log after it is imported.

File name

: Displays the name of the file that contains the schema to import. Use the ellipsis button to select a different filename.

Data log

: Select the data log to use for the schema. This field is only enabled for certain types of file.
The Ok button is disabled unless you have provided valid input for all the fields in this dialog.
For more information on how a schema is created from a Prolog 4 file see About deducing Prolog 4 schemas.