Sample Number dialog box
Use the Sample Number dialog to set or change the sample number for a unit.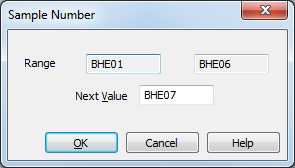 The dialog shows the minimum and maximum range of sample numbers already present in the hole (assuming that MEGS_Log can parse the sample number format in use).
The Sample Number dialog is displayed by:
Selecting the Sample Number command on the Borehole popup menu.
Using the Correlate editing tool while Sample Numbers are being shown.